As the world adapts to the changes that 2020 brought, businesses around the world are facing challenges in recruitment and retention. At Groom & Associates, we know how to deal with these challenges — we're more than just a vendor filling chairs for your organization; we're a partner and an extension of your business.
That's why we're proud to share that we've recently been awarded by Clutch as one of the top HR consulting firms in Canada. This award comes as we strive to become one of the best HR firms in the world, and we're extremely grateful for this recognition.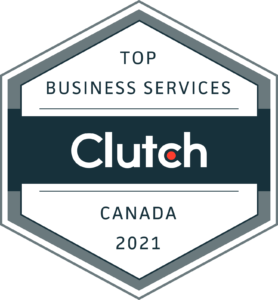 Clutch is a ratings and reviews platform that collects and evaluates client reviews for B2B companies. They check and verify the reviews for accuracy and truthfulness in search of the best service providers across various industries. To be chosen as one of the best companies in our field is a great achievement for Groom & Associates.
"We are so honoured to have received this award. Thank you, Clutch!" — CEO, Groom & Associates
We're also extremely grateful to our amazing clients who have taken the time and gave their feedback about our services. On our Clutch profile, one of them wrote:
"They were responsive and communication was very fast. The project was managed correctly, and they gave us feedback when needed." — Owner, Digital Marketing Company
We've also been ranked highly on The Manifest — Clutch's sister website and a resource of businesses — among the top recruiting companies in Canada.
As we continue to work hard to provide the best recruitment services to our partners and clients, we also look forward to seeing our customers achieve their goals.
To learn more about our services, check out our recruitment expertise or contact us today. We're excited to work with you!