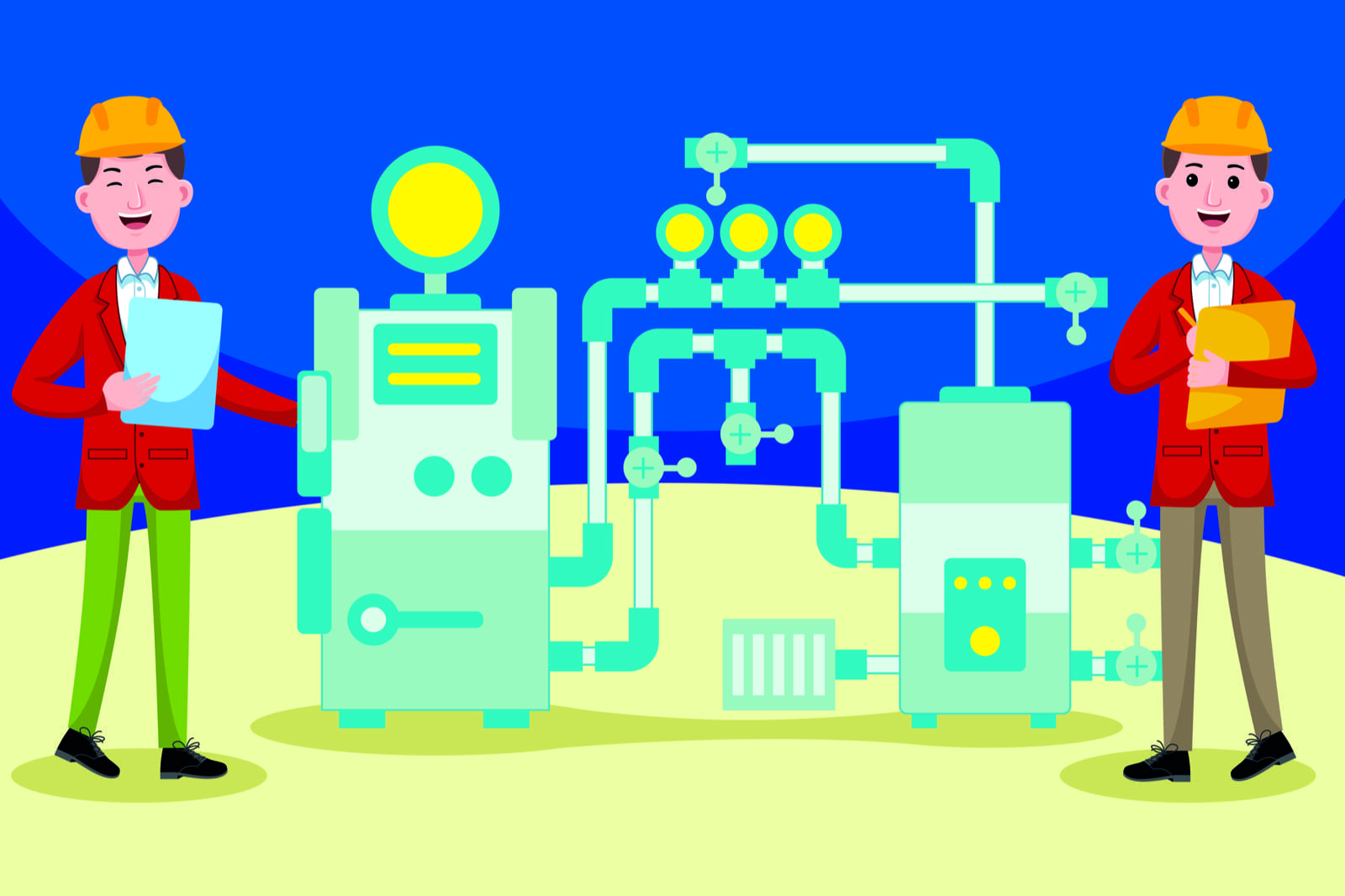 As Canada's population and economy continues to grow, so does the need for engineers. Even entry-level engineers are in high demand, particularly in Alberta, where the oil and gas industry is well developed.
Outside of fossil fuels, there are immense opportunities for mechanical, electrical, chemical, and other engineers in a number of industries. These engineering professionals play an important role in the expansion of our cities and industries, and careers in engineering typically come with six-figure salaries and opportunities for advancement.
Here is our updated list of Canada's most in-demand engineering roles, with salary ranges that depend greatly on the level of experience and the seniority of the position.
1. Pipeline Engineer $90,000 – $150,000
While Canada is investing heavily in sustainable energy in a commitment to reduce carbon emissions, the oil and gas industry is still extremely important. In 2021, the Canadian oil and gas market was estimated to be valued at US$ 100.7 billion, and was projected to reach a market value of US$ 310.9 billion by 2035 according to one forecast.

This thriving industry explains the demand for the pipeline engineers who plan and design oil and gas pipelines to transport fuel. These engineers are often involved in the quality control of the pipelines, and will troubleshoot inevitable problems such as leaks.
In Alberta, these engineers are typically paid handsomely, even for entry level positions. This career requires a Bachelor degree in engineering, and many educational institutions will offer a specialization in oil and gas engineering.
2. Mechanical Engineer $60,000 – $100,000
There are numerous industries where mechanical engineers play a key role. From manufacturing to automotive, and biotechnology to aerospace, thriving sectors in Canada have a growing demand for these skilled professionals who design, develop, and test all sorts of machines. A mechanical engineer in Canada may work with thermal sensors, engines, and other kinds of tools and devices.
The educational path for a mechanical engineer can vary, as there are many specializations, but most jobs will require a Bachelor's degree in engineering.
3. Electrical Engineer $70,000 – $110,000
Like mechanical engineering, electrical engineering is a broad field that mainly involves the design and development of electrical systems and equipment. Electrical engineers use math and electronic frameworks to create, develop, and test these electrical devices or systems.
Electrical engineers are also important for telecommunications, as they may work on connections between satellites to improve communications. Needless to mention, there is a great need for electrical engineers in Canada, especially those with a unique specialization or skillset. The demand for these professionals exists in most of the provinces with a large population, especially in Calgary's energy sector, and in Ontario's manufacturing industry.
4. Data Engineer $90,000 – $120,000

Over the past decade, making sense of Big Data has become of premiere importance in almost every single industry. Similar to a data scientist, a data engineer will collect and analyze sets of information, but they are also typically experts in software engineering. They often design systems for collecting data which can extend to actual hardware.
They may also build systems for storing data, and must ensure the information is ready for teams of data scientists and analysts.
Unlike other engineering disciplines, a data engineer doesn't necessarily have to have a degree in engineering, rather, in computer science. These sought-after professionals are often lumped into the IT sector, but their experience with hardware is often what sets them apart from other IT professionals.
5. Civil Engineer $65,000- $100,000
Civil engineers are indispensable when it comes to planning urban infrastructure. Most people will think of buildings and bridges when they think of civil engineers, but these professionals are also responsible for designing water transport systems and other public works such as dams, tunnels and airports.
A civil engineer might manage and oversee projects, monitor the cost of labour and materials, and test various structures. They may work on site, or in an office environment depending on their exact role. As Canada's population grows, more cities and communities are expected to blossom along with the demand for civil engineers.
6. Project Management Engineer $90,000 – $150,000
Project manager engineers are responsible for organizing, managing, and overseeing projects. They will typically create plans, assess existing processes and lead teams.
Project management roles require experience and leadership skills, which is why salaries for these positions are almost always in the six figures. An engineering project manager will require the right educational background along with several years of professional experience.
Industries of all kinds require project managers. For example, Quebec's vibrant Aerospace industry has a near-constant demand for senior engineers for management positions.
7. Systems Engineer $75,000 – $95,000
This multidisciplinary role involves ensuring the functionality and efficiency of systems. It requires engineers who have good communication skills, as they will often work with cross-discipline engineering teams to help deliver products, processes, or solutions.
Systems engineers are needed in many industries including transportation, software, manufacturing, and more.
The requirements for a systems engineer position will depend greatly on the company and industry. Generally, a degree in electrical, electronics, communications or computer engineering, or certification as a Professional Engineer in Canada is necessary. Candidates should also have a good knowledge of systems engineering and quality standards.
8. Computer Hardware Engineer $75,000 – $95,000
Computer hardware engineers work with the physical components of computers. They may also work on other machines that contain screens, motherboards, and memory cards. The primary duties of a hardware engineer in Canada might include designing computer hardware, creating blueprints, testing computer hardware models, analyzing test results, modifying designs, overseeing the computer hardware manufacturing process, and more.
These engineers are needed in several sectors, and are essential for accelerating new computer technology.
9. Biomedical Engineer $70,000 – $100,000
Biomedical engineers play a key role in researching and developing various devices and software to advance health and medical care. They may work to develop or improve diagnostic machines, prosthetic limbs and even replacement body parts.
Due to a large aging population, Canada's need for biomedical engineers is growing exponentially. These engineers have the ability to make a huge impact on the health and wellbeing of millions of Canadians and people all over the world.
For this role, employers will often require a Bachelor's or Master's degree in biomedical engineering, mechanical engineering, electrical engineering, or a related field. Candidates with experience relating to R&G and rapid prototyping will likely be favoured, and experience in similar roles is always a major asset.
10. Mining Engineer $85,000 – $120,000
Canada is a recognized leader in the mining industry. In 2019, the total value of Canada's mineral production reached $48.2 billion. The minerals sector is a mainstay of the economy that supports all kinds of jobs including mining engineering.
Mining engineers design or improve mines for resource extraction. They sometimes specialize in a specific mineral type and work to develop mining extraction processes or equipment for that particular resource.
Mining engineers will also work on mine safety, and ensure that operations are safe for miners. They maye develop new plans for safer mines. These engineers are some of the most highly paid in the country, and are greatly demanded in the areas where mines are located, mainly in British Columbia, Alberta, Northern Ontario, and Northern Quebec. There are, however, mining engineering positions in Canada's largest cities that do not necessarily require on-site work.
Engineers are increasingly needed in Canada's health, IT, manufacturing, mining, and energy sectors (among others). It's safe to assume that a person with a Bachelor's degree in engineering and a keen interest in a certain field will have an excellent chance of landing a six-figure salary fairly early on in their career. More importantly, Canada offers engineers a chance at working on important green projects, as well as new breakthroughs in health and medicine.