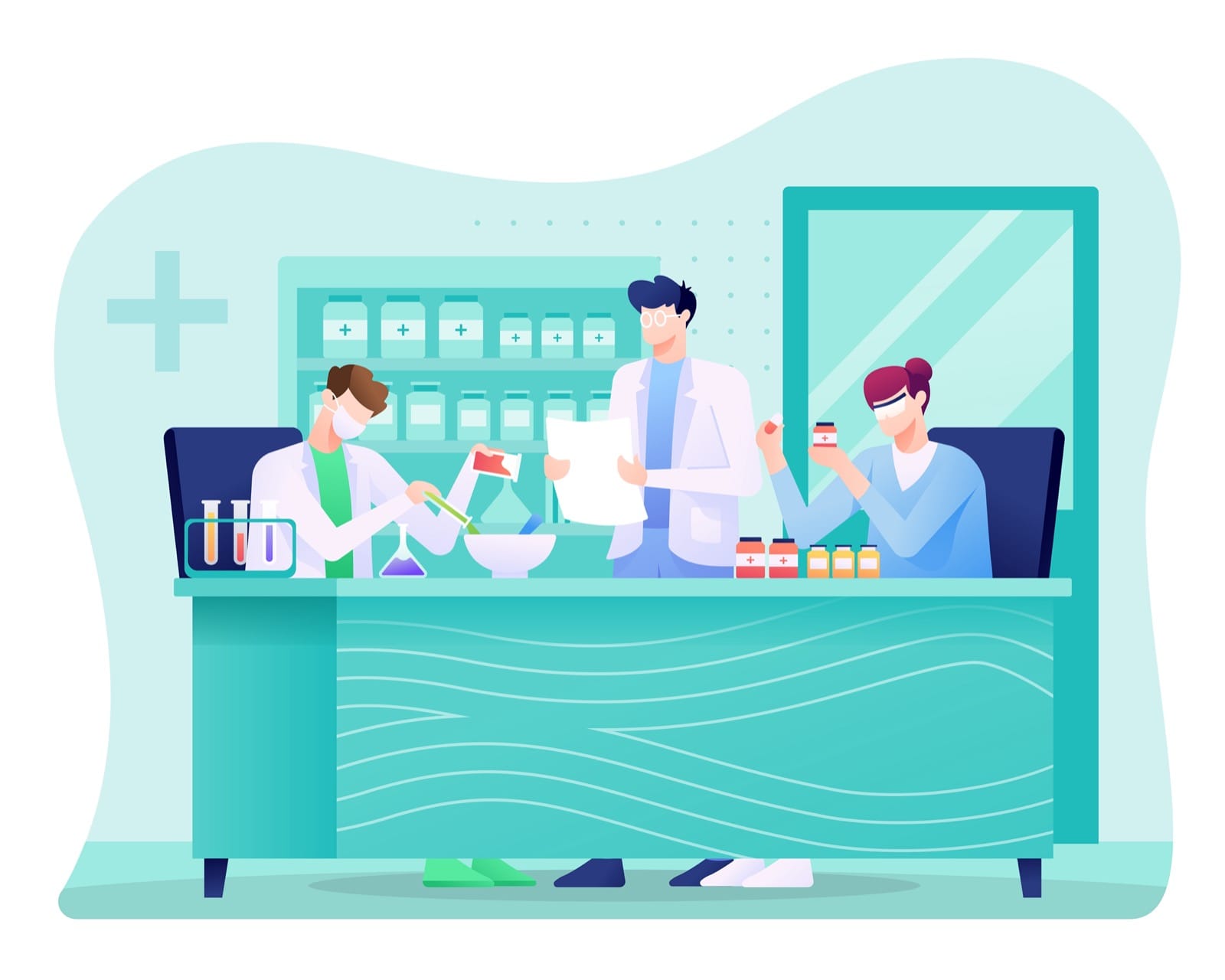 If the 2020's have taught us anything, it's that health is big business. Canada continues to be one of the world's leading countries for pharmaceutical research and development, not to mention a place that offers a good quality of life as well as equity and fairness in the workplace.
As diseases and other health conditions continue to cause turmoil, the Pharmaceutical sector in Canada is growing exponentially, with a demand for scientists and other specialists outpacing the supply of talent. Our 2022 report on Canada's most in-demand Pharmaceutical industry positions is derived from our wealth of data from our partners and clients, industry leaders, and publicly-available online resources such as Payscale, Glassdoor, and other career sites.
For individuals with science backgrounds looking for insights into in-demand jobs with salaries, see our comprehensive list below. Note that there is a range for each position depending on level of seniority or years of experience required.
1. Medical Director ($185,000 – $200,000)
Depending on the company, a Medical Director will play a key role in bringing understanding and judgment in benefit/risk assessments for medicinal products. They will often provide oversight for personnel, as well as quality assurance, and are the medical monitor for various studies such as clinical trials and ongoing clinical trial management.
This senior role requires a minimum of a Bachelor of Medicine or surgery or equivalent (most often, a Doctor of Medicine), and typically requires a documented history of success in a leadership role. Medical Directors are critically important, and due to the experience required, it's easy to see why the demand for this role outweighs the availability of doctors with this experience.
2. Quality Assurance Manager ($80,000 – $95,000)
Those working in pharmaceutical quality control positions are responsible for making sure that medical products work properly, and are safe for human consumption. It goes without saying that to ensure drugs are safe and effective, Quality Control Managers and Coordinators are crucial for the pharmaceutical industry.
This position typically requires a Bachelor's degree in chemistry, biochemistry, microbiology, pharmacy, or related discipline, plus some experience in a similar role as it is quite technical. A Quality Control Manager will prepare and execute external and internal audits, manage databases, trial-specific paper and electronic documentation for accuracy and completeness, and much more.
3. Clinical Researcher ($75,000 – $105,000)
A senior Clinical Research is responsible for the execution and oversight of operational clinical trial activities, and overseeing the impact on local regulatory and financial compliance, and compliance with various country regulations. They are often accountable for performance and project management, compliance with quality standards and identifying and selecting clinical trial sites based on the study-defined criteria.
A career in clinical research necessitates a science-related Bachelor's degree, and senior roles such as Clinical Research Manager will usually require at least a Master's degree as well as some years of experience in a related position. From coordinators to managers, Clinical Researchers have plenty of room for growth in their role as they gain skills and experience.
4. Formulation Scientist ($65,000 – $85,000)
The role of a Pharmaceutical Formulation Scientist entails furthering the development of medical products. Like the name implies, they develop formulations and methodologies for the creation of drugs, and work to enhance or improve current products in development.
A minimum of a Bachelor of Science is usually required, and depending on the seniority of the position, degrees such as a Master's or PhD in chemistry, biomaterials, chemical engineering, pharmaceutical science might be preferred or even required.
5. Medical Sales Representative ($85,000 – $250,000)
When one imagines a lucrative role in the pharmaceutical industry, a medical sales rep often comes to mind. Medical sales reps must identify and develop customer opportunities in a given territory (a city or province, for example) and convert them into successful sales. Customers might include family physicians, clinics, medical supplies retailers, and more.
Some employers in the pharmaceutical sector will require a science-related Bachelor's degree for this position, whereas others will place more importance on years of experience in sales. For this career, the right personality is essential, as it entails a customer-facing role. A background in science and medicine is usually an asset, if not a requirement, but the ability to open up new sales opportunities and retain customers is a must.
6. Regulatory Affairs Specialist ($60,000 – $150,000)
Depending on the pharmaceutical company and the specifics of the role in question, someone in Regulation Affairs acts as a regulatory consultant, and usually works to gain approval by Health Canada, the FDA and other regulatory bodies. Essentially, they must ensure that all medical products are in compliance with Canadian laws and regulations, as well as corporate policies and procedures.
Salaries for this position depend greatly on whether the specialist is an entry-level associate or coordinator, or a senior director.
7. Analytical Development Scientist ($65,000 – $85,000)
As the name implies, the Analytical Development Scientist aids in the development of new pharmaceutical products in addition to improving existing products and procedures. A scientist in this position must be an expert at interpreting data and solving compliance problems as well as ensuring all regulatory guidelines are being followed. They're also often responsible for re-evaluating, and optimizing methods and techniques as required by clients.
They tend to work closely with research and development teams, and must have very strong analytical skills, as well as industry-related hard skills. A Master's Degree in chemistry or a related field is usually essential.
8. Supply Chain & Logistics Manager ($70,000 – $90,000)
In the Canadian Pharmaceutical industry, a Supply Chain & Logistics Manager does a lot more than ensure the streamlined flow of products from warehouse to customer. This role entails ensuring optimal levels of inventory, minimizing operational costs, and analyzing supply-related activities that impact various manufacturing programs. Managers in this department will often collaborate with several business units and provide critical information to clinical study teams that affect drug supplies.
A strong background in logistics management and a keen ability to interpret complex data are necessary for this in-demand position.
9. Validation Engineer ($75,000 – $100,000)
Validation is a critical aspect of the manufacturing process in the pharmaceutical and medical device industries. A Validation Engineer will rigorously test and pre-test the processes and equipment used to manufacture products, and will conduct systems audits to ensure that products are manufactured with precision and consistency.
IT knowledge is definitely an asset, and a Bachelor of Sciences in Chemistry, Biology or in a related field is required.
10. Epidemiologist ($70,000 – $90,000)
If there was ever a time for epidemiologists to shine, it's now.
Epidemiologists study patterns of disease among the population to determine how best to deliver public health services and fight biological threats. A pharmaceutical epidemiologist will often conduct research on the effects of the company's products on human health, as well as track other health-related trends and habits.
They provide critical advice to support various health programs and the development of new drugs, and are often responsible for planning and designing research projects, optimizing standard research protocols, and more.
For this position, most Pharma employers in Canada will require a Master's degree in Epidemiology, and a PhD is preferred.
Pharmaceutical-related careers in Canada are ample, as this evergreen sector continues to expand. The country's growing population and economy, and the government's investment in advanced research make Canada one of the world's most attractive countries for Big Pharma (as well as smaller companies) to set up shop. Candidates with a Bachelor's degree in Life Sciences have nearly unlimited opportunities, even if they possess limited experience. It's safe to say that when it comes to liveable wages, job stability and quality of life, Canada's Pharmaceutical industry offers these in spades.